Parts We Fix – Speaker and Microphone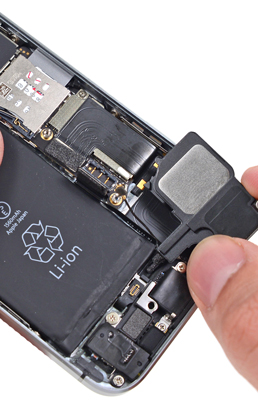 The primary function of a mobile device is to connect you with your family, friends and loved ones. But how can your latest iPhone, Samsung Galaxy, Galaxy Note or MacBook do that if its speaker or microphone is broken? In case all you hear in the speaker is static or other people are having trouble hearing you clearly when you speak into the microphone, it's time to fix the problem for good. Get in touch with one of the many Brooklyn iPhone Repair technicians and get a solution to your problem today! Why would you work with us? Because we offer:
Highly competitive prices
Same day repairs
Convenient location in NY/DoBro

Certified experts that are highly skilled and trained
A stock of hundreds of OEM quality parts
Amazing customer service
Our experts are also able to perform micro soldering and fix very complex issues inside your device. We not only repair speakers and microphones, but also screens, cameras (front and back), batteries and buttons. Our ready stock of OEM quality parts enables our techs to perform same day repairs; no need to wait for days until the part gets to NY!
Not only does Brooklyn iPhone Repair receive amazing reviews on a weekly basis, we also offer a warranty for each one of our services and parts. Rest assured that we can repair any iPhone, iPad, Galaxy, Samsung Note or MacBook quickly. We offer long term solutions to any problem you might be having with your mobile device. Call or email us today and learn more about the amazing services that we have to offer!